Foot & Ankle Injuries and Conditions
Fellowship-Trained Care from Fractures to Full Joint Replacement
From our toes to the knee, discomfort can keep us from enjoying everyday life. The movement of our lower body depends on the foot, and its multitude of muscles, ligaments, and tendons. Combined with the ankle, this complex combination of heavily worked joints can become a source of significant pain.
Our goal at Gulf Orthopaedics is to not only alleviate foot and ankle discomfort, but produce meaningful, lasting improvements to flexibility, mobility, and range of motion.
Trauma, sports-related injury, and disease are the most common sources of foot and ankle pain. Typically, soreness stems from a fracture or injury to the ligaments of the ankle such as a sprain. Overuse injuries may lead to inflammation from mild aching in the joints to Achilles tendonitis.
If you experience ankle pain that doesn't fade with a few days of rest, ice, and over-the-counter medication, you should seek medical attention. If the ankle is painful with swelling, skin discoloration, and weakness, seek help immediately with a trip to the ER.
Diagnosing the source of joint pain requires an understanding of the entire musculoskeletal system. Foot and ankle problems are often connected to an alignment issue somewhere else in the body.
Some of the many pain-causing ankle problems include:
Achilles tendinitis – Achilles tendon inflammation
Achilles tendon rupture – complete Achilles tendon tear
Bursitis – inflammation of the cushioning sacs inside your ankle
Osteoarthritis – ankle cartilage breakdown over time
Rheumatoid arthritis – inflammation in joint linings
Gout – inflammatory arthritis, featuring uric acid crystals
Ankle sprain – overstretching or tearing of an ankle ligament
Fractures – broken tibia, fibula, or talus bone
Tarsal tunnel syndrome – nerve compression in the back of your foot
Osteochondritis dissecans – loss of blood supply to the ankle bone and cartilage
Meet our Foot & Ankle Specialist
Gulf Orthopaedics offers foot and ankle care from specialized practitioners, including physical therapists, and orthopaedic physicians with expertise in leading edge treatments. Our specialists are board-certified, with many holding dual certifications in complementary musculoskeletal fields. As a result, our team has the collaborative expertise necessary to diagnose and treat a vast range of conditions with the most complex surgical solutions.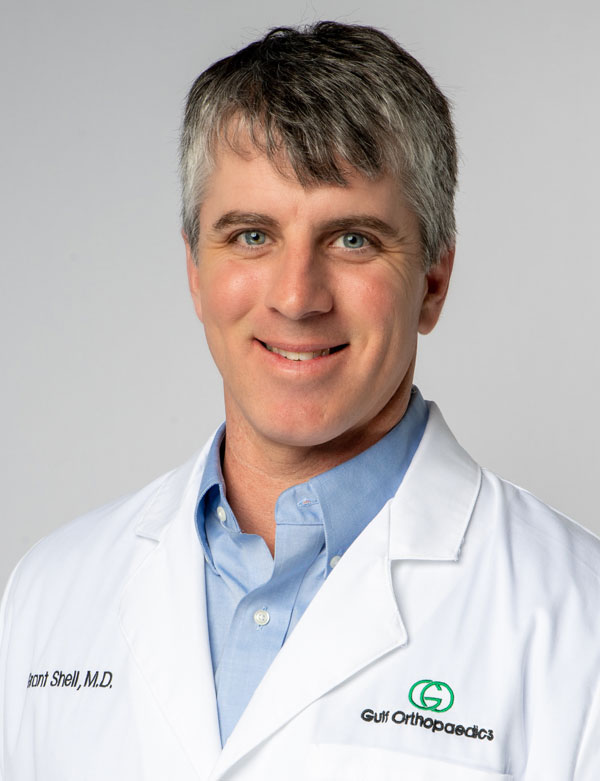 Grant Shell, MD
Foot & Ankle Specialist
Dr. Shell is fellowship-trained in foot & ankle care from the University of Alabama at Birmingham and is additionally skilled in a variety of other orthopaedic trauma. He excels at complex foot problems and works with the patient to develop a personalized plan of treatment. Conservative solutions are always the priority, in fact, 90% of patients require bracing, pain-relieving injections, and physical therapy for relief. A range of treatment options include:
Ankle fracture surgery
Ankle replacement surgery
Foot/Ankle reconstruction
Bone spur removal surgery
Midfoot fusion surgery
Bunion removal surgery (bunionectomy)
Minimally invasive arthroscopic surgery
Orthotic devices
Plantar fascia injections
Tendon and ligament strengthening therapy
Seeing a specialist for your ankle or foot pain is critical.
Failure to identify certain injuries quickly can result in much more complicated – and painful – treatments down the road with less assurance of full recovery.