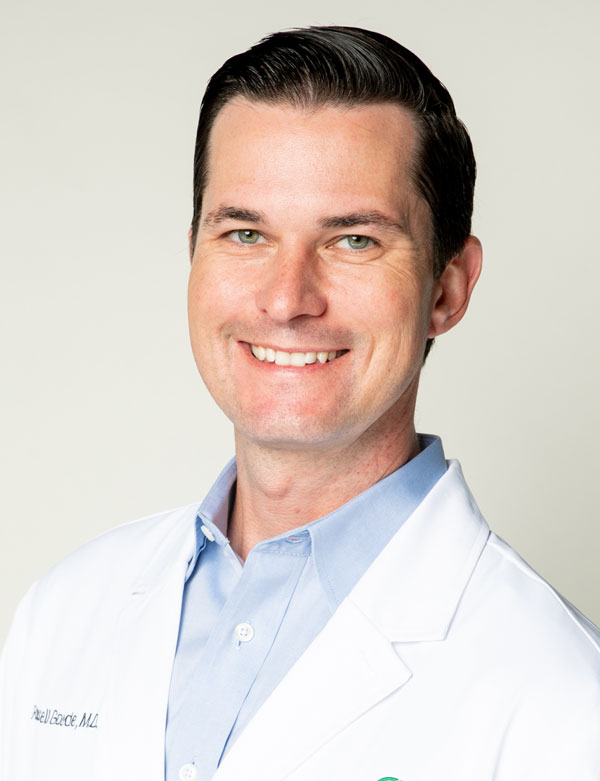 Specialties:
Arm & Wrist Fractures
Elbow Fractures
Shoulder Fractures
Clavicle Fractures
Hip Fractures
Knee/Plateau Fractures
Patella Fractures
Tibia Fractures
Ankle Fractures
Velys Robot Assisted Total Knee Arthroplasty
Total Hip Arthroplasty
Reverse Total Shoulder Arthroplasty
Locations: Midtown Mobile, Hillcrest, Tillman's Corner
Learn More About Russell Goode, MD
Dr. Goode is a Board-Certified Orthopaedic Trauma specialist, skilled in cases of complex as well as simple fractures from the wrist to the shoulder and pelvis to the toes. He has been practicing in the Mobile area since the completion of his fellowship and has performed over 6,000 procedures specifically related to fractures and injuries. Dr. Goode has completed training in regards to Velys Total Knee Arthoplasty in addition to extending his practice into Total Hip Arthroplasty and Reverse Total Shoulder Arthroplasty. Given Dr. Goode's specialized training he does also manage fractures that do not heal correctly (malunion) as well as fractures that do not heal at all (nonunion). Dr. Goode also shares a passion for the prevention and treatment of osteoporosis, directing the Gulf Orthopaedics Bone Health Clinic with his wife Sarah Goode, CRNP. Dr. Goode continues to actively teach as faculty with the Alabama College of Osteopathic Medicine as well as being involved with training courses with the Orthopaedic Trauma Association and AO Foundations. In addition, he holds consulting agreements with Johnson & Johnson, Arthrex Medical, and Illuminoss Medical helping with innovation and product development as well as doing independent medical reviews for numerous organizations such as Blue Cross Blue Shield of Alabama. He is licensed to practice medicine in Alabama as well as Mississippi.
Education
Undergraduate School
University of South Alabama – Mobile, AL
Medical School 
University of South Alabama Frederick P. Whiddon College of Medicine, Mobile, AL
Residency
University of South Alabama Health Systems, Mobile, AL
Fellowship
Orthopaedic Trauma, University of Missouri School of Medicine Orthopaedic Surgery Program
Specialty Certifications
American Board of Orthopaedic Surgery
Professional Affiliations
Orthopaedic Trauma Association Fellow
American Academy of Orthopaedic Surgeons (AAOS)
Awards
Mobile Bay Magazine's 40 Under 40 – Class of 2022. This honor recognizes those under age 40 demonstrating leadership, professional excellence, and a commitment to the community.
My Team
Chipper Choquette, CRNP
Heather Setterstrom, CRNP